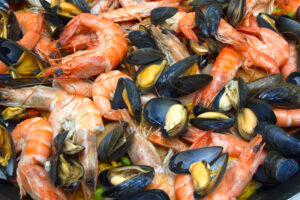 Often, seafood is thought of as summer food. While we understand, a nice fresh piece of fish perfectly cooked after being caught is a great summer activity- there's more to seafood than summer! Seafood can be enjoyed each season, and there are several "National __ Days" for seafood.
This blog will go through some of those holidays, and go over one of the main seafood holidays: The Feast of The Seven Fishes.
Holidays
We aren't talking about your main holidays, here- though maybe some of these should be! But for every "National Daughters Day" or "National Taco Day," there is at least one seafood-based one. Below we've compiled a list of seafood-related holidays each month. If you need an excuse to eat seafood, or if you want to throw a fun party, look no further!
January: 10th Oysters Rockefeller Day, 25th Fish Taco Day.
February: 13th Crab Rangoon Day, 24th Tartar Sauce Day, 24th Fish Fry Day.
March: 9th Crab Meat Day, 12th Baked Scallops Day, 31st Clams On The Half Shell Day.
April: 17th Crawfish Day, 29th Shrimp Scampi Day.
May: 2nd Tuna Day, 10th Shrimp Day.
June: 25th Catfish Day.
July: 3rd Fried Clam Day.
August: 5th Oyster Day, 27th Crab Soup Day.
September: 25th Lobster Day.
October: 2nd Fried Scallops Day, 8th Salmon Day, 19th Seafood Bisque Day.
November: 1st Fried Clams Day.
December: 21st Fried Shrimp Day.
Some honorable mentions are:
June 29th: National Fisherman's Day
October: National Pescatarian Month.
So, with these holidays and monthly celebrations, you have plenty of reasons to eat some delicious seafood! Of course, you may not need an extra reason, with all the benefits you get from eating fresh seafood. But these holidays are a fun way to change up weekly dinners or encourage you to go out for a fresh seafood meal!
One that is more common in many households, however, is:
Feast of The Seven Fishes
Feast of The Seven Fishes is an Italian American tradition on December 24th. While its origin is tied to religion, in modern times, many people participate just because they want to, regardless of their religion or if they are Italian!
While each family has its own spin on it, some of the typical dishes you may see are:
Appetizers: You can expect to see things like shrimp cocktail, raw and baked oysters, baked clams, seafood dips, and scallops!
Greens and Seafood Salads: Simple, vibrant salads with greens such as arugula and other additions such as radicchio are typical. They not only pair excellently with grilled seafood toppings, but even alone, they are a fantastic palette cleanser.
Stews: The main stew is typically cioppino, however, some families include non-cream-based chowders and soup, such as Hatteras-style clam chowder
Pastas: shrimp fra diavolo, linguine with clam sauce, shrimp scampi… really any seafood pasta dish!
Main Fish Dishes: These are typically served as the whole fish, but many families use filets! So really any baked, seared, or fried fish or shrimp!
Dessert: Typically, a lighter fruit dessert is served as a palate cleanser before moving on to the main desserts. some typical ones are: fresh fruit, lemon granita, or fruit sorbet. In terms of main dessert, popular choices are: tiramisu, zeppoles, gelato, and baked goods.
As you can see, this feast is aptly named. And while it has transformed from its origins, it still lives on in many households. Of course, not every dish mentioned is served, and many that are not on this list are served!
The most important thing when enjoying seafood is ensuring that your seafood is fresh.
At Dockside Seafood, our fresh market has fresh seafood for you to buy for any holiday, celebration, or just because! Not only that, but our restaurant offers fresh fish of the day. If you want to take it one step further, we offer fishing tours and, for a nominal fee, will prepare the fish you caught right at the restaurant! We have proudly served Virginia Beach, VA, for years. Our menu features everything from freshly caught seafood to pasta. To make a reservation, give us a call at 757-481-4545.