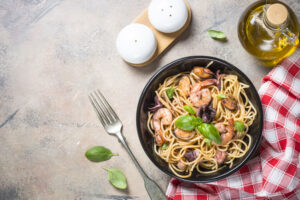 If you enjoy a light seafood dish from time to time or like to indulge with a heartier pasta dish every so often, consider combining the two for a truly delicious meal.
This pasta dish not only tastes great but the seafood that is included is packed with essential vitamins and minerals that are ideal for a balanced diet.
When you're craving pasta and want something a bit more on the healthier side, look for a delicious seafood restaurant that serves dishes like shrimp parmesan, seafood marinara, vodka shrimp or vodka salmon for a meal you won't soon forget.
Shrimp Parmesan
Shrimp parmesan is one of the more popular seafood pasta dishes as it combines pasta and shrimp while being topped with delicious marinara and parmesan.
This is a great alternative to your favorite chicken parmesan dishes, having lower carbs and while providing that great parmesan taste.
Seafood Marinara
Another seafood pasta favorite is seafood marinara. Although this dish is quite simple, combining your favorite seafood items such as scallops or shrimp with pasta and marinara, it is a great way to get the essential vitamins and minerals that come from seafood that include omega-3 fatty acids, vitamin B12, zinc, vitamin E and more.
Vodka Shrimp or Salmon
Similar to seafood marinara, vodka shrimp or salmon combines your favorite seafood and pasta but is topped with a delicious vodka sauce.
This dish typically features pan seared seafood along with artichoke hearts for a truly delicious and unique meal that your taste buds will thank you for.
When you're craving a seafood dinner with pasta and are looking for the perfect seafood restaurant, we invite you to stop in and see us at Dockside Seafood & Fishing Center.
We are located in Virginia Beach, VA and are proud to serve locals and visitors alike with some of the very best seafood in the area, caught fresh daily. With a selection of seafood pasta dishes and other seafood favorites available on our expansive menu, we are the ideal option for a family dinner or a romantic night out with that special someone.
To make a reservation, please give us a call at 757-481-4545.