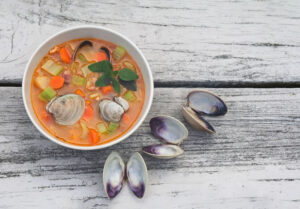 We're in the heart of the winter season and there's nothing that can knock away those wintertime blues quite like a warm bowl of soup or a heaping plate of pasta. When you throw some seafood into these dishes in makes them all the better.
When you want a dish that will keep you warm and full as you wait for the spring season to roll around, we suggest you try any of these three favorites.
Hatteras Style Clam Chowder
Hatteras style clam chowder is a simple take on clam chowder that features clear broth instead of the typical creamier chowder.
This spin on clam chowder is not only a healthier option, but it is one that our customers simply can't get enough of.
Enjoy bowl after steaming bowl that includes potatoes, vegetables and chopped clams guilt-free this winter season.
Shrimp Parmesan
While soup is a fan favorite when the temperature drops, there's something to be said for selecting a hearty dish of pasta that is sure to warm your soul.
Shrimp parmesan is one of our most popular pasta options and comes with lightly breaded shrimp all topped with marinara sauce and parmesan.
She Crab Soup
Another soup that we suggest during he winter months is our delectable she crab soup. This soup features a blend of backfin crab meat, cream, sherry, herbs and spices. When you want a fix of seafood while staying nice and warm, this is the perfect option.
If you're craving a seafood dinner and are looking for the perfect seafood restaurant, we invite you to stop in and see us at Dockside Seafood & Fishing Center.
We are located in Virginia Beach, VA and are proud to serve locals and visitors alike with some of the best, most fresh seafood that is caught daily. With an expansive menu filled with soups, pasta dishes and other winter classics, we are the ideal option for a family dinner or a romantic night out. To make a reservation, we ask that you give us a call at 757-481-4545.