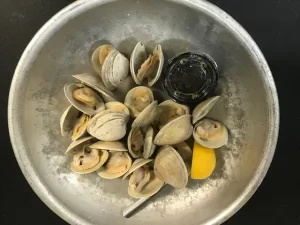 Summer is here, and what better way to enjoy it than with some fresh, local seafood! While there are many delicious options, some people get stuck ordering the same thing. This summer, branch out and enjoy some clams! If you're unsure where to start or want to try something different from your usual, below are three ways to enjoy clams!
1.     Clams Casino
Clams casino is an over 100-year-old recipe! While the fillings change with each person making it, it typically contains bacon, bell peppers, onions, breadcrumbs, and, you guessed it, clams! It involves boiling the clams, opening them, then mixing the diced clam with the cooked ingredients. Then, you spoon the filling back into the clam and broil!
2.     Chowder
There are many different types of clam chowder, meaning that you are sure to find one you love. Some people prefer clam chowder with a creamy base, some prefer chowders with a tomato base, and some prefer the Hatteras style, which truly allows the flavor of the clam to shine!
3.     Steamed
Sometimes, simple is best. Nothing beats fresh clams steamed to perfection! Enjoy them as-is, or if you're making them at home, try steaming them with garlic and lemon. Truly letting the flavor of the clam shine is a great way to enjoy them!
At Dockside Seafood, we serve many of the above recipes, plus more, in our restaurant! Or, if you're feeling inspired to try them out yourself, our fresh market has clams for you to buy. If you want to take it one step further, we offer fishing tours and, for a nominal fee, will prepare the fish you caught right at the restaurant! We have proudly served Virginia Beach, VA, for years. Our menu features everything from freshly caught seafood to pasta. To make a reservation, give us a call at 757-481-4545.