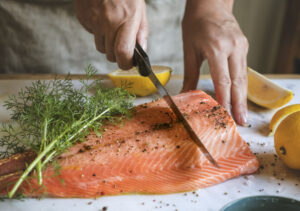 Whether you're making your favorite fish recipe at home or are going out to a local seafood restaurant, you'll want a fish that not only tastes great, but one that is nutritious as well.
When you want the best tasting and healthiest fish available, make sure that it is wild caught. These fresh-caught fish have been shown to have higher levels of healthy fats and lower levels of unhealthy ones. They also have more vitamins essential for your health and less calories overall.
Gain peace of mind in knowing the fish you're eating was brought up in a safe manner and enjoy a delicious meal by choosing wild-caught fish tonight.
It's more nutritious
Fish that come directly from local waters have a clear nutritional advantage. They have been shown to have higher levels of omega-3 fatty acids (healthy fats), lower levels of omega-6 fatty acids (shown to be less healthy) and less fat overall.
Wild-caught fish also have less calories and higher levels of essential vitamins that include potassium, zinc and iron.
Furthermore, many farm-raised fish are fed with grains and soy, which can make the fish less nutritious.
It contains less contaminants
Fish raised in large farms have been shown to contain higher levels of contaminants such as polychlorinated biphenyl (PCB), dioxin, pesticides and more. PCBs and dioxin have been shown to be carcinogenic and dangerous when regularly ingested.
Farmed fish are given antibiotics to help fight off disease, which can result is residue being left on the skin of the fish as well.
It's better for the environment
Although there are certainly concerns with overfishing, choosing a wild-caught fish is still the preferable option. With farm fishing, fish are at greater risk of getting certain diseases and viruses, including high levels of sea lice, which can eventually make their way into nearby ocean water.
Fish farms are also known to feed their fish large amounts of forage fish that include herring and sardines. These forage fish are taken out of the natural ocean food chain, which can be harmful to wild fish.
No matter if you are looking for a more nutritious dinner option, something that tastes great or something that is better for the environment, we invite you to join us soon for a wild-caught fish dinner at Dockside Seafood & Fishing Center.
For the freshest and best tasting fish in Virginia Beach, VA, we ask that you stop in and see us today. For more information, call us at 757-481-4545.