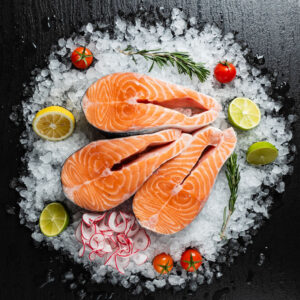 Fish is a great food that is simply delicious. Unfortunately, many people do not know of the benefits of eating fish or have only had frozen breaded fish sticks. This isn't to say that those can't be delicious at times! But fresh fish has an unbelievable flavor and texture that is unparalleled. Not only is it delicious, but it is rich with nutrients that benefit us. Some studies site benefits such as: better vision, lower risk of heart disease, and even better sleep quality!
Fatty Acids
Fish are rich in many omega-3 fatty acids! These acids, such as D and B2, have many health benefits. Fish oils (As they are called) are sometimes referred to as the beauty and brains of vitamins due to their positive effect on our brains and bodies! While taking fish oil supplements is an option, a great way to get these benefits is to enjoy fresh fish weekly!
The Fresher The Better
Some people may not like fish because they have had fish that wasn't fresh. Some people will say that fish tastes too "fishy,"- which is usually a sign that the fish has not been handled properly. Typically fresh fish will have a fresh and mild scent.
It's important to have fresh fish for safety and to ensure you get the maximum health benefits!
At Dockside Seafood, our fresh market has fresh seafood for you to buy, and our restaurant offers fresh fish of the day. If you want to take it one step further, we offer fishing tours and, for a nominal fee, will prepare the fish you caught right at the restaurant! We have proudly served Virginia Beach, VA, for years. Our menu features everything from freshly caught seafood to pasta. To make a reservation, give us a call at 757-481-4545.