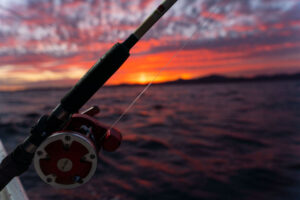 Whether you go with friends, family, or solo, a fishing charter trip is an incredible experience. To make sure it's smooth sailing, we've compiled a list of some tips to ensure your trip is a success!
Research and Pick Your Company
It's important to look into which fishing charter company you will go with. A good way is to research the type of charter you want and then look into reviews. It's important to ensure your company will work will all the fishers coming aboard…even the kids! Some companies only do expert trips or don't allow kids.
Rest assured, at Dockside, our half-day charters are fun for every level of fisher!
Prepare
Now that you've booked, it's time to get everything together! Every company is different, but for the most part, you can expect to prepare in the following ways:
–       Appropriate Clothing: soft-soled shoes and weather-appropriate clothing. Some people opt to bring a light jacket in case of wind. Remember your sunglasses, too!
–       Proper Sun Protection: sunscreen is a must! Apply it around 30 minutes before your charter, and bring it with you to reapply. We also suggest a hat or visor!
–       Proper Food and Drink: When you're spending a day in the sun, it's important to stay hydrated. Bring plenty of water, and pack some snacks. If you forget, don't worry! At Dockside, our boats have snack bars that sell light snacks and drinks.
Note: We do not sell alcohol on our boats. However, you're more than welcome to bring wine or beer. We do not allow hard liquor. 
Go Fish, and Enjoy Your Catches
We have no steps for going on the charter except have fun, and treat your deckhands well!
Now that you're back, you can enjoy your spoils! At Dockside, we make sure we assist you with everything to ensure your catches stay fresh. Upon return, we'll package your fish, and there is a fish cleaner at our dock who will clean your fish for an additional charge.
If you don't want to hassle yourself with bringing your catches back, for a nominal fee, our restaurant will prepare your freshly caught fish and serve it to you at a waterside table.
If the cards weren't in your favor this time around, don't worry. Our market has fresh seafood for you to buy, and if you're too tired to cook, our restaurant offers fresh fish of the day. Our menu also features everything from freshly caught seafood to pasta!
We have proudly served Virginia Beach, VA, for years with glowing reviews to show for it. To make a reservation, give us a call at 757-481-4545.