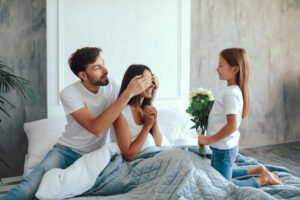 Mother's Day is always the second Sunday in May. While that seems far away, planning early is a great way to ensure you knock it out of the park! Rather than panic and default to an overpriced generic card and a department store gift card, create homemade gifts and experiences. It's a cliché, but it's true: something made from the heart is always worth more! Below are tips and ideas for gifts that are homemade and heartfelt!
Homemade Gift Ideas
A Card: Take the time to make her a homemade card with a thoughtful message thanking her for all she does. Even if the drawings are stick figures, they'll be a work of art to her.
Coupons: Sometimes, there are certain chores or tasks that we would love our partner to do but don't want to ask. Make a coupon stack for some tasks you know she'll appreciate- making dinner, getting the kids ready for the day, deep cleaning, or even making her favorite meal while she watches her shows. Whatever you create, she is sure to love and appreciate it!
Photo Gifts: Put together a thoughtful photo album complete with notes on the pages from you. Another idea is to make coasters! There are many tutorials online, but for most, you only need tile from the hardware store, decoupage medium, and laser-printed photos.
Flowers: Who doesn't love flowers? Take the time to get her a beautiful bouquet and vase. Don't forget to trim and prepare them in the vase, too!
Homemade Meals: Making a homemade meal is a great way to show you care. Watch a few tutorials on her favorite meal and buy fresh ingredients to go above and beyond. For seafood, our market has fresh seafood for you to buy daily!
If you know your time will be better spent focusing on your recipient, taking her to a high-quality restaurant is an excellent choice- and it saves you some cleanup! For an amazing meal with gorgeous views, look no further than us here at Dockside Seafood. We have proudly served Virginia Beach, VA, for years with glowing reviews to show for it. We would love to help make your Mother's Day celebration special. To make a reservation, give us a call at 757-481-4545.