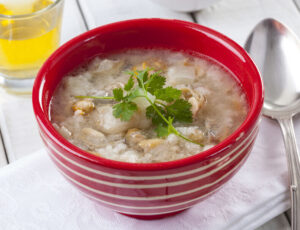 If reading our last blog inspired you to get some clams, we got you covered! As we spoke about, a great way to enjoy clam is in a chowder! You may think that chowder is only good for the cold months, and while it is a great way to warm up, it also is amazing in the summer months! There are a few different types of chowder, which we will go over! For all of these, everyone has their own best version, so we'll only cover the bare bone basics!
New England Clam Chowder
New England is a cream based chowder. It's made by cooking diced bacon, and onions. Add diced potatoes and water and boil until tender. Then add in your cream, butter, and clams! This hearty, creamy, chowder is best served with crusty bread or crackers!
Manhattan Clam Chowder
Manhattan Clam Chowder is known for its red base. To make this, cook onion, celery, and garlic until soft. Stir in tomato paste, and add fresh herbs (thyme and parsley are great options), then add chopped potatoes. Cover with clam juice and boil until potatoes are done before adding tomatoes and chopped clams. For some extra spice add some red pepper flakes. This chowder pairs well with herby breads like focaccia.
Hatteras Clam Chowder
This chowder is known for its clear broth. Begin by cooking bacon, then adding in onions, carrots, and celery. Stir in potatoes, clams, and clam juice. Bring to a boil, then simmer until potatoes are tender. Serve with crackers!
Whatever type you try, you are sure to love it! At Dockside Seafood, our vast menu offers not only a delicious Hatteras style chowder, but many other things for everyone to enjoy!  Or, if you're feeling inspired to try them out yourself, our fresh market has clams for you to buy. We have proudly served Virginia Beach, VA, for years. Our menu features everything from freshly caught seafood to pasta. To make a reservation, give us a call at 757-481-4545.