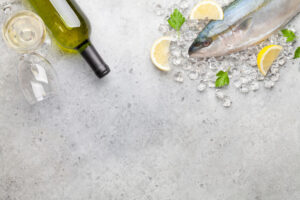 Ah, seafood! There's nothing quite like enjoying the fresh, succulent flavors of the ocean's bounty. And, when it comes to elevating your seafood dining experience, the right wine and side dish pairings can make all the difference. In this guide, we'll explore some of the best pairings for seafood commonly found in Virginia Beach so that you can create a truly memorable meal.
Perfect Pairings: Matching Wine and Seafood
Flaky White Fish: Chardonnay or Sauvignon Blanc
When it comes to flaky white fish like flounder or sea bass, a crisp, refreshing white wine is a perfect match. Chardonnay's bright acidity and hints of citrus complement the delicate flavors of these fish, while Sauvignon Blanc brings a zesty, herbaceous quality that pairs well with lighter fish dishes.
Rich, Oily Fish: Pinot Noir or Viognier
For richer, oily fish like bluefish or mackerel, a light-bodied red wine like Pinot Noir or a full-bodied white wine like Viognier can be an excellent choice. Pinot Noir's bright acidity and fruity notes help cut through the richness of the fish, while Viognier's lush, floral character adds depth and complexity to the dish.
Shellfish: Sparkling Wine or Rosé
Shellfish like shrimp, crab, and lobster can vary in flavor, but they generally pair well with sparkling wines or dry rosés. The effervescence and acidity of sparkling wines like Champagne or Cava enhance the natural sweetness and brininess of shellfish, while a dry rosé's fruity notes and bright acidity create a delightful contrast with the rich, buttery flavors of dishes like lobster or crab.
Complementary Sides: Bringing Out the Best in Your Seafood
Light and Fresh: Citrus Herb Salad
A simple citrus herb salad with mixed greens, orange segments, and a lemony vinaigrette is a refreshing side dish that complements most seafood dishes. The bright, zesty flavors help cleanse the palate and enhance the fish's natural flavors.
Classic Comfort: Garlic Mashed Potatoes
For a more comforting, hearty side, garlic mashed potatoes are always a hit. The creamy, garlicky goodness of this classic dish pairs well with a wide variety of seafood, from flaky white fish to rich, buttery shellfish.
Discover the Best of Virginia Beach Seafood
Now that you've got some great pairing ideas, it's time to put them into action. Whether cooking at home with fresh seafood from a local market or enjoying a delicious meal at a coastal restaurant, these pairings will elevate your dining experience. And, if you're in the Virginia Beach area, why not make a trip to Dockside Seafood Market for some of the freshest seafood available? While you're there, don't forget to check out our restaurant or even sign up for a half-day fishing charter or bay cruise to make your seafood experience truly unforgettable. We have proudly served Virginia Beach, VA, for years with glowing reviews to show for it. To make a reservation, or to ask any questions, give us a call at 757-481-4545.
Bon appétit!