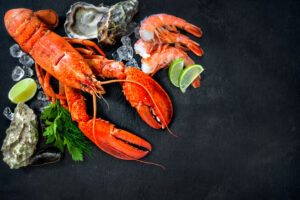 It can feel overwhelming when you're tasked with picking out a seafood restaurant. Whether it be for date night or a dinner with family and friends, you want to make sure you're picking a place everyone will enjoy.
With so many options out there these days, you may not know where to begin. If you stick to these few simple rules, it will allow you to choose the perfect seafood restaurant that will leave your party full and satisfied.
Think of your party's tastes
Whether you have someone in your party who loves lobster, crab cakes or other seafood delicacies, knowing what your party truly enjoys can help you narrow down your search.
There's nothing worse than going out for a fun evening only to find that the menu isn't something your entire party enjoys.
Consider your budget
If you're on a strict budget, you'll need to make sure that the restaurant has affordable seafood options. While you certainly want something that tastes great, you don't need to break the bank to get it. Explore a few different menus until you find prices that you are comfortable with. It's important to note that menus are not always up to date on certain sites, so you may want to go to the restaurants actual site if they have one to get the most up-to-date pricing.
Make sure it has a diverse menu
Similarly, it is important to make sure the seafood restaurant you're choosing has a diverse menu. This includes exciting appetizers, entrées and drinks.
If you have younger children that will be tagging along, you should check to see if they have a children's menu or any non-seafood items if they are on the pickier side.
Check to see if the seafood is fresh, wild caught
Another tip for finding the perfect seafood restaurant is seeing if they have fresh, wild-caught seafood. This can usually be read on their menu or on the information provided on the restaurant's website.
Fresh, wild-caught fish is an ideal option as it often has a better taste than farm-raised fish, and it is also more nutritious by containing higher levels of omega-3 fatty acids and vitamins.
Read reviews, view photos online
When you think you've found the perfect seafood spot, take a few minutes to read reviews online and view photos of the inside of the restaurant.
This will allow you to get a better idea of the cleanliness of the space, the service patrons have received in the past and any bad experiences that may have occurred. Make sure to look at third-party review sites, as reviews on the restaurant's site can often be handpicked, only showing the positive experiences.
Looking at pictures of the restaurant will help you see if the space has the right atmosphere that you're looking for. If it is by the ocean, you can see if it has good views of the water or romantic seating to view the sunset.
When you're looking for a delicious and affordable seafood restaurant in Virginia Beach, VA, we ask that you think of us at Dockside Seafood & Fishing Center.
We proudly offer fresh seafood options seven days a week for both lunch and dinner. Whether you spent a day relaxing on the beach and are looking to enjoy a nice meal afterwards, you're taking your significant other out for a romantic evening or anything in between, we are the seafood spot to think of for any situation. We are also proud to offer fishing trips, bay cruises and a fresh fish market for visitors as well.
It will be our pleasure to serve you soon and we ask that you give us a call at 757-481-4545 with any questions you may have.