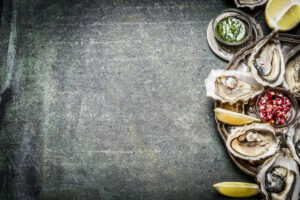 The next time you're in the mood for seafood, consider oysters as a healthy and nutritious way to get your seafood fix.
Oysters have been a seafood delicacy for centuries, and for good reason. They're packed with vitamins essential for brain function, they have been shown to be beneficial for osteoporosis, cardiovascular disease and much more. They also have a low-calorie count and provide the protein you need for a healthy diet.
Whether you prefer them raw with a little lemon, with butter or even fried, oysters a great seafood option when you're looking to be health conscious while enjoying a delicious meal.
They're loaded with vitamins
While it's probably not the first thing you think about when browsing a seafood menu, it's important to know that each seafood item brings its own unique health benefits.
In the case of oysters, they offer several vitamins that are essential to a healthy diet. They're packed with vitamin B12, vitamin D, iron, magnesium, zinc, selenium and much more. All of these vitamins play their own important role for your health and are plentiful in these compact mollusks.
They're great for brain health
As mentioned above, every oyster provides an impressive amount of vitamin B12. This vitamin has proven to be great for brain functioning and can even prevent brain atrophy.
People with a lack of vitamin B12 in their diet have been shown to have a greater chance of having cognitive issues in their later life that include dementia and Alzheimer's. Vitamin B12 has also been shown to help with depression issues and suicidal thoughts.
Make sure to get your fix of this delicious seafood treat a few times a year to keep your brain functioning as it should!
They have the selenium you need
Oysters also have been shown to contain a good amount of selenium. Although the body only requires a small amount of this mineral, many people are still deficient in it.
A lack of selenium has been linked to cardiovascular disease, lower brain functioning and fertility issues.
They can help ward off osteoporosis
Being loaded with vitamin D, copper, manganese and zinc, oysters can be used to help slow or prevent osteoporosis in women.
When consumed with a combination of calcium, these vitamins have been proven to assist with this bone loss issue in older women. This natural way of consuming these vitamins has also been shown to be more effective at warding off osteoporosis than over the counter supplements.
Low in calories, high in protein
Aside from the health benefits you'll get from the vitamins and minerals in oysters, you'll be happy to know that they are low in calories, six oysters typically contain 50 total calories, and that they have the protein you need, with each oyster having up to 2 grams of protein depending on their size.
Even if you get your essential vitamins and minerals from other sources, these are still a great addition to a low-calorie diet.
If you're going out to a seafood restaurant in the near future and want to give oysters a try, we invite you to join us at Dockside Seafood & Fishing Center.
We proudly serve a selection of fresh-caught oysters in dishes that include raw eastern shore oysters (steamed or on a half shell), oyster platters (lightly fried) and our signature fried oyster sandwiches.
Our restaurant is located in Virginia Beach, VA and we proudly serve residents and visitors alike with the freshest and most affordable seafood in the area.
To make a reservation with us at Dockside Seafood & Fishing Center, we ask that you call 757-481-4545 today!