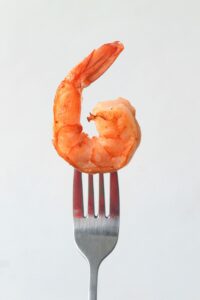 When you're in the mood for seafood and are looking for something a little more exciting than shrimp cocktail, mix it up with a fun shrimp dish.
Whether it be shrimp stuffed with other seafood favorites, pasta dishes with shrimp or anything in between, there are a wide variety of options that will be sure to satisfy your taste buds.
Before you decide on the seafood restaurant you will be dining at tonight, make sure you explore these three fun options and more for inspiration.
Stuffed Shrimp
While everyone loves a steamed or fried shrimp, consider taking things to the next level by having your shrimp stuffed.
This type of shrimp can be stuffed with a wide variety of things that include crab meat, breadcrumbs and more. Make sure to get them broiled and doused in lemon butter to make it the perfect dish.
We'll warn you though, you may never want to go back to normal shrimp again!
Shrimp Parmesan
If you love pasta and seafood, why not have them both in one amazing dish? Shrimp parmesan is a popular seafood pasta and has pieces of jumbo shrimp mixed into marinara pasta. The entire dish is then covered with a layer of parmesan to make it both hearty and delicious.
Vodka Shrimp
If you're looking for something a little on the lighter side, consider shrimp pasta with vodka sauce. As the name suggests, you will be getting a classic pasta dish with vodka sauce, accompanied by a healthy amount of pan-seared shrimp. The combination is truly something that every seafood or pasta lover should try.
When you're heading out on the town with friends, family or that special someone and are looking for the perfect seafood restaurant to enjoy a shrimp dinner, we ask that you stop in and see us at Dockside Seafood & Fishing Center.
Located in Virginia Beach, VA, we are proud to serve locals and visitors alike with some of the very best seafood in the area, caught fresh daily. We have a wide selection of shrimp dishes and more available and will be honored to have you soon. Give us a call today at 757-481-4545 to make a reservation.