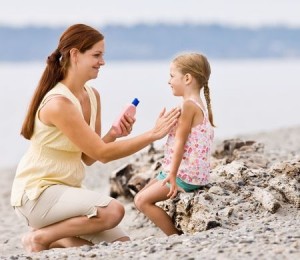 Planning a fishing trip or dolphin excursion with Dockside Seafood & Fishing Center? Remember to plan for the sunny weather! The sun is hottest near midday, so be sure to apply and reapply your sunscreen while out on the boats. Follow these tips to stay comfortable and sunburn free during your Virginia Beach vacation:
Sunscreen
When purchasing sunscreen, look for sun protective factor (SPF) 15 or higher with both UVA and UVB protection included. Apply sunscreen before heading out on the water and try to reapply every couple hours. Be sure to check the expiration date on your sunscreen as well. Most sunscreens have a shelf life of three years, less if exposed to high temperatures.
Clothing
Cover up to minimize the amount of skin exposed to the sun while out boating. Loose-fitting, long sleeved shirts offer the most protection. When choosing an outfit to wear out in the sun, look for items made of tightly woven fabric. Check this by holding the clothing up to the light. The more see-through the fabric, the less protection it will offer. Also, remember sweatshirts for the evening dolphin cruises, in case you or your kids get cold out on the water!
Accessories
Hats, visors and sunglasses are other great options for protection against the sun. When choosing a hat, look for a wide brim that goes all the way around your head. Canvas and other tightly woven fabrics offer the most protection. If wearing a baseball cap, be sure to apply sunscreen to your ears and neck. A hat or visor will also keep your eyes shaded when looking for fish or dolphins.
Sunglasses offer protection for your eyes and the sensitive area of skin around them. Look for sunglasses that wrap around the sides of your head to block as much of the UV rays as possible and allow you to look out across the water without squinting.
Ready to book your trip with Dockside Seafood and Fishing Center? Call us today at 757-481-4545 to make your reservations!