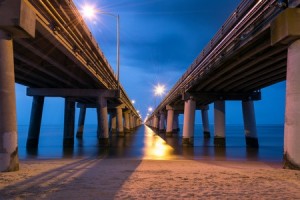 The Chesapeake Bay region is a well-known tourist destination with a long and unique history. Home to Native American tribes for thousands of years, over 24,000 people lived in the area by the 1500s. It was not until 1524 that Europeans entered the region with the visit of Italian caption Giovanni da Verrazano and his crew. More than 50 years after this trip, The Virginia Company of London arrived in the Chesapeake Bay to establish the first permanent English settlement in North America: Jamestown, Virginia.
It was during this time period that Captain John Smith visited the region, mapping a detailed and extremely accurate map of the Bay and the rivers that lead to it. As the colony grew, hook-and-line fishing techniques were used to fish the bay and the harvesting of oysters began. By the early 1800s, oyster fishing was so popular that laws were put in place to cut back on the number of individuals who could fish the area.
In 1829, the Chesapeake and Delaware Canal was built to connect the two waterways. Purchased by the U.S. government in 1919, it is now one of the only fully sea-level shipping canals in the world. From 1950 to 1960, the Chesapeake Bay Bridge and Chesapeake Bay Bridge-Tunnel were built, opening the eastern shores of Maryland and Virginia to the public.
Since this time, many initiatives and groups have been formed to preserve the health of the bay, allowing us to continue fishing – and serving up the delicious fish we catch!
Dockside Seafood and Fishing Center is located just minutes from some of the best fishing Chesapeake Bay has to offer. With half-day fishing trips running from early spring through the month of December, this Virginia Beach experience provides plenty of fun for the whole family. Call us at 757-481-4545 to schedule your trip today!