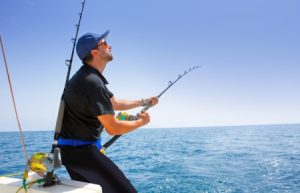 Whether you're a novice or an expert fisherman, we're willing to bet that the more you fish, the more you'll want to fish. Fishing is a fantastic outdoor activity that offers lots of benefits. Read on to find out why 46 million Americans love to fish.
Anyone can do it
Male, female, young, old, rich, poor – no matter who you are, you can fish. It's one of the most accessible outdoor activities available!
It encourages social bonding
When you go fishing with family or friends, you'll be able to build strong relationships.
You can encourage each other and actually bond and listen to one another. In our ordinary environment, it tends to be hard to focus on what someone is really saying because of background noises and tensions caused by different issues. When you're on the water, it's a whole different story.
Fish is healthy (and delicious)
What other sport has delicious meals built in? You're sure to enjoy cooking up and eating your catch at the end of the day, or you can let us do it for you. We will prepare your fish for you at our waterfront restaurant and seafood market. What's more, you can enjoy it without the guilt, since wild fish are low in calories and high in protein.
You'll feel more relaxed
Fishing is great for stress relief. It helps you unplug from technology and be present with nature, creating a sense of calm and relaxation.
Right about now, you're probably ready to head out and start fishing! Check out Dockside Seafood Fishing in Virginia Beach, where you will experience a great time on the water with our fishing charters!