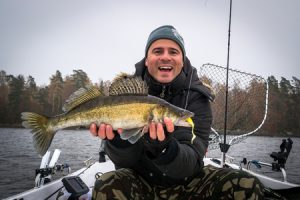 Fall is here and with it comes some of our favorite fishing weather! A nice breeze makes for an enjoyable morning or afternoon out on our boat with average temperatures in the mid 70's. So, what should you pack for a fall fishing trip with Dockside Fishing Center?
If you are planning a fishing trip this fall, here are a few tips to help prepare for your upcoming trip:
Protection from the Sun
Even though the summer is over, the sun isn't any weaker out on the water. Remember to pack sunscreen and be sure to reapply frequently. Paler people are more prone to suffering from sun burns but darker toned people should be sure to use sunscreen as well. It can be difficult to immediately sport a sunburn on darker skin tones but it is very necessary to use. Bring a baseball cap as well to keep your scalp from getting sunburn and to keep your head warm in case of a cool breeze. Another bonus, a baseball cap will help protect your eyes from the sun, keeping you from having to squint all day as you look out onto the bright water! Although the cap can help shield your eyes, it is also a good idea to bring UV blocking sunglasses.
Snacks & Beverages
Snacks are available for purchase on deck, but why not pack a lunch as well? Bring a few sandwiches and a thermos of soup or hot chocolate in case you or one of the kids gets a little chilly. These tasty options will warm you right up and you'll be back to casting your line against the rail in no time!
Medicine
If you or anyone in your party takes any kind of daily medications, be sure to pack them. Many people experience motion sickness while out on the water and it is a good idea to pack some medicine to help alleviate these symptoms. Here are a few other ways to prevent motion sickness:
Ginger– If you would rather use a more natural remedy, use fresh ginger. Simply eat a small amount of fresh ginger to help ease the feelings of motion sickness.
Avoid direct sunlight– While you are feeling dizzy and nauseas it is best to avoid direct sunlight. Be sure to drink water to stay hydrated and wear a sun blocking hat to stop your body from overheating.
Sit at the center of the boat– This is the best place to stand when you are feeling motion sickness on a boat. There is more stability at the center of the boat because it does not rock as much.
Dress Appropriately
It is time to pack away your lightweight summer fishing clothing and replace it with thicker insulated layers. The cold from the water can decrease temperatures on the water, making it feel much chillier while you are fishing. Remember to wear layers as it is always easier to take something off if you get too warm, rather than regretting bringing a jacket along.
Wear a pair of jeans or pants and bring along a long sleeve shirt or sweatshirt to pull on in case of cold. 75 degrees Fahrenheit is warm, but the breeze from the ocean can make the weather seem much cooler than it is. With a sweatshirt or light jacket on hand just in case, you won't have to worry about the weather spoiling your fun!
Learn more about our half-day fishing trips and call us at 757-481-4545 to book your reservation today! Weather allowing, we will be open until December 31 this year, giving you plenty of time to book a fall or winter trip with your family.